Description
For the active woman, during work or play
Whether you're hitting the gym or the trails, the Ortorex High Support Sports Bra is your perfect companion. The functional design provides a cosy feel, while the front zipper ensures quick and easy wearing and adjustment.
Breathable
With the bra's polyester-spandex blend, you won't face any irritation or chafing even after a 10-mile run.
Efficient support
The Ortorex Sports Bra is perfect for a variety of activities, including running, cycling, and strength training. It offers optimal support to keep you comfortable during physical activity.
Versatile
The Ortorex Sports bra blends in nicely with your everyday outfits, meaning you can wear it out shopping or on a casual outing too.
Easy-on, easy-off
The High Support bra's handy zipper in front design ensures quick wearing and removal, no matter how sweaty you get.
Moisture-wicking
Made with moisture-resistant fabric, the Ortorex Sports bra keeps you cool and dry during those intense workouts.
Functional design
The adjustable straps and band provide additional chest support, helping to alleviate any discomfort or distractions during your workouts.
More reasons to love our sports bras
Flexible
Skin-Friendly
Comfortable Material
Lightweight
Non-Allergic
Size guide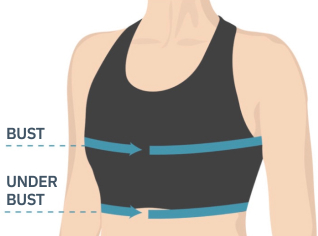 MEASURE YOURSELF:
Before you start, wear an unlined bra that supports your natural shape — no bralette or padded bra.
To find the bust measurement, wrap the measuring tape around the fullest part of your bust. Make sure to keep the measuring tape horizontal. Hold securely, not tightly.
To find the underbust measurement, wrap the measuring tape around your ribcage, directly and evenly under your bust.
FIND THE RIGHT SIZE:
| SIZE | BURST | UNDERBURST | WEIGHT |
| --- | --- | --- | --- |
| S | 76-85 cm/29.9-33.5 in | 66-77 cm/26-30.3 in | 42.5-50 kg |
| M | 83-92 cm/32.7-36.2 in | 70-82 cm/27.6-32.3 in | 55-60 kg |
| L | 90-100 cm/35.4-39.4 in | 78-87 cm/30.7-34.3 in | 60-67.5 kg |
| XL | 95-106 cm/37.4-41.7 in | 85-92 cm/33.5-36.2 in | 65-80 kg |
| 2XL | 103-113 cm/40.6-44.5 in | 87-100 cm/34.3-39.4 in | 77.5-92.5 kg |
| 3XL | 110-125 cm/43.3-49.2 in | 98-110 cm/38.6-43.3 in | 90-102.5 kg |
| 4XL | 115-130 cm/45.3-51.2 in | 105-115 cm/41.3-45.3 in | 100-110 kg |
| 5XL | 125-135 cm/49.2-53.1 in | 110-122 cm/43.3-48 in | 107.5-120 kg |
You can also use the chart below to convert your regular bra size into Ortorex High Support Sports Bra size:
Bra Size
S
70C-32C
75A-34A
75B-34B
–
–
–
M
75C-34C
75D-34D
75E-34E
80A-36A
80B-36B
–
L
80C-36C
80D-36D
80E-36E
85A-38A
85B-38B
–
XL
85C-38C
85D-38D
85E-38E
90A-40A
90B-40B
–
2XL
90C-40C
90D-40D
90E-40E
95A-42A
95B-42B
–
3XL
95C-42C
95D-42D
95E-42E
95F-42F
100A-44A
100B-44B
4XL
100C-44C
100D-44D
100E-44E
100F-44F
105A-46A
105B-46B
5XL
105C-46C
105D-46D
105E-46E
105F-46F
110A-48A
110B-48B