Description
Use Nano Mist Spray to enjoy a refreshing mist anytime, anywhere! Or to keep you and your belongings germ-free!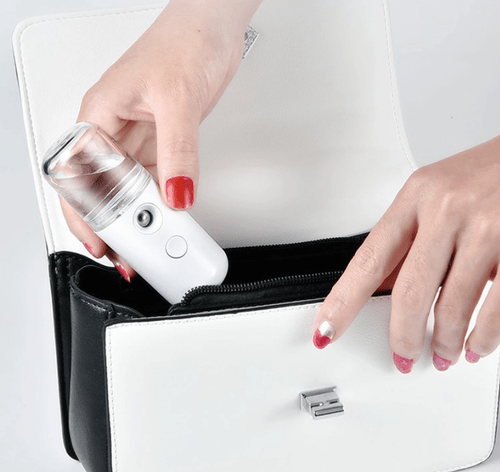 The Nano Mist Spray that is exclusive with nanotechnology, produces the finest mist that immediately allows nutrients to soak-in and help tighten pores and refine the skin's texture for a clearer, more radiant and healthy-looking complexion. It allows your skin absorb all the essential elements from mineral water at any time. If you have really dry skin or want to stay hydrated whenever and wherever possible, this is perfect tool for that. Using Nano Atomization Technology, the minerals are absorbed by the skin faster than ever before leaving it feeling soft, hydrated and refreshed. You can even use this mist spray to set your make up for a dewy finish and help it last longer throughout the day. The spray moisturizes your skin without damaging your makeup and gives a refreshed look any time. Besides, it's perfect to use on the go. Enjoy this pocket-sized facial mister wherever you are, at the gym, from the office, running errands or even on a plane.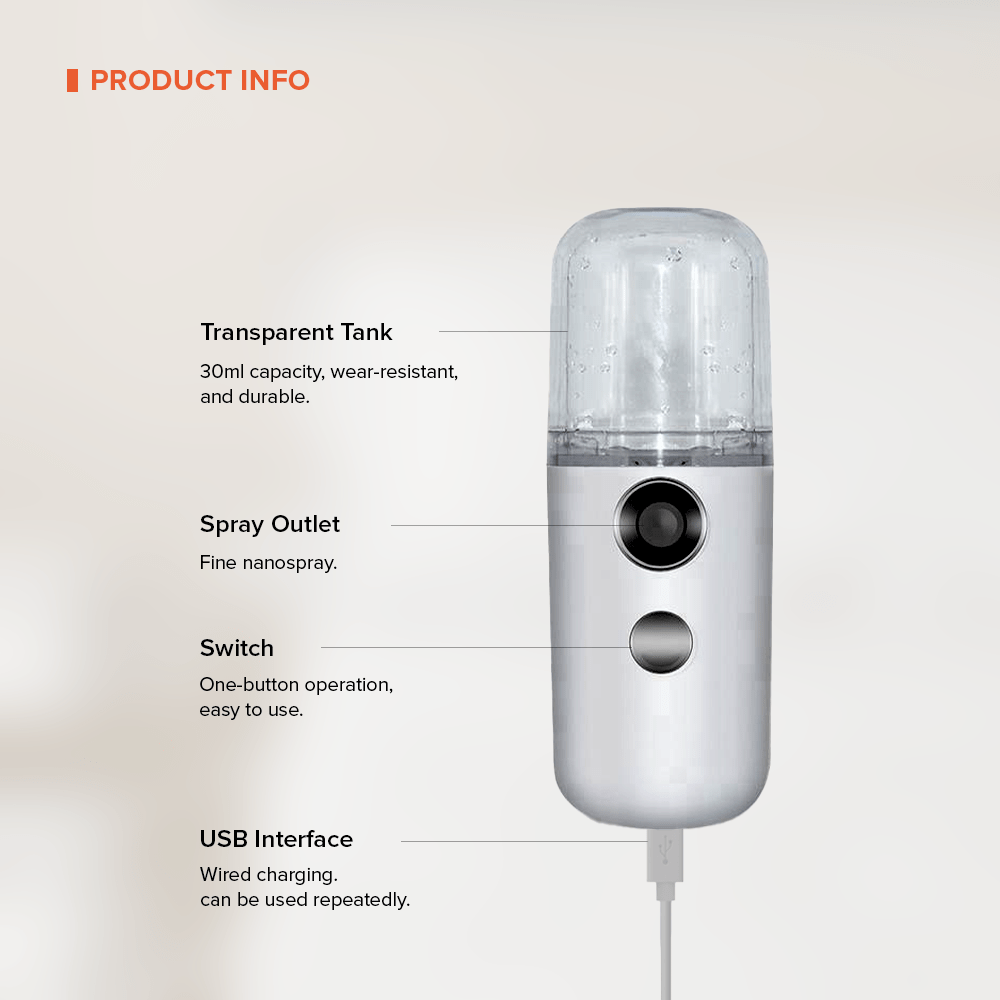 The Nano Mist Spray is the ultimate compact tool that combines an amazing facial moisturizer with a practical sanitizer. It's both effective and efficient when it comes to killing germs. Mixing 75% water and 25% sanitizer makes the perfect sanitizing formula and saves you from buying sanitizers often. With a single push of a button, it sprinkles a mist that kills all germs around. You can fill it up with any disinfectant to create an effective cleaning and sanitizing solution.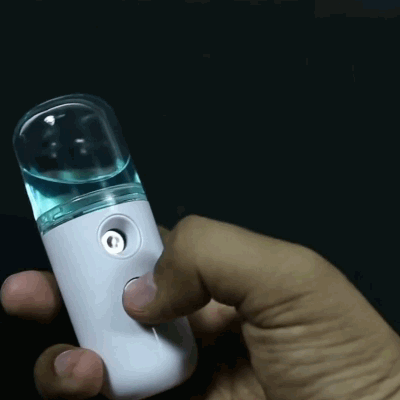 Aside from washing and sanitizing our hands, it is also important to sanitize the things we often touch like mobile phones, keys, doorknobs, money, and other high-touch surfaces. By using the nano atomization technology and high-speed oscillation processes, the sprayer can dissolve molecular hydrogen into nanoparticles for deep cleaning and create mist that lands on any surface evenly. With it, you can disinfect electronics and every day essential items quickly and easily. The nano mist spray is intelligently designed and has a compact size so you can carry it anywhere with you especially when traveling. It will perfectly fit your bag, purse, or pocket. No more sticky sanitizer gel mess in your purse!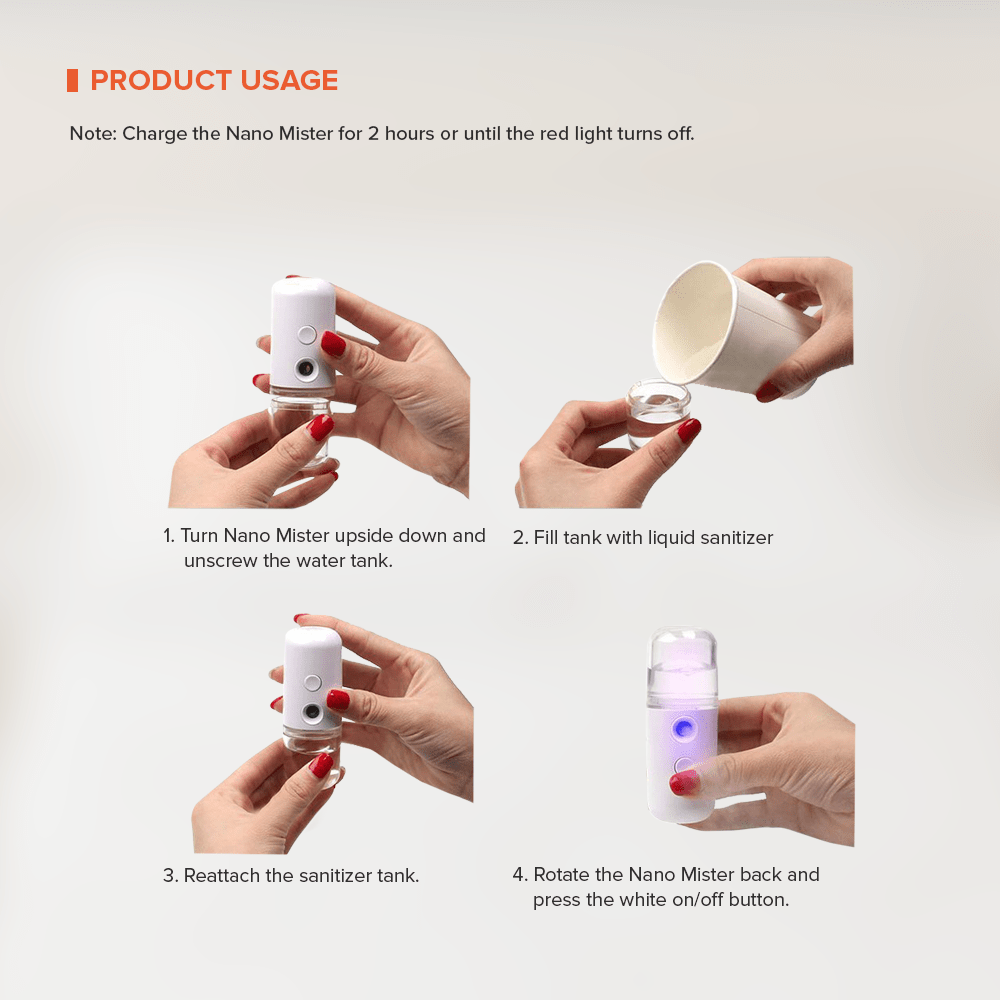 How to use:
1. Rotate counterclockwise to open the 30ml filling tank.
2. After opening, fill the water tank with natural mineral water for skincare or 75% alcohol-based hand sanitizer for disinfection.
3. After adding the liquid, turn it clockwise to tighten the mister tank.
4. Double click the power button to spay the mister to disinfect the things or enjoy .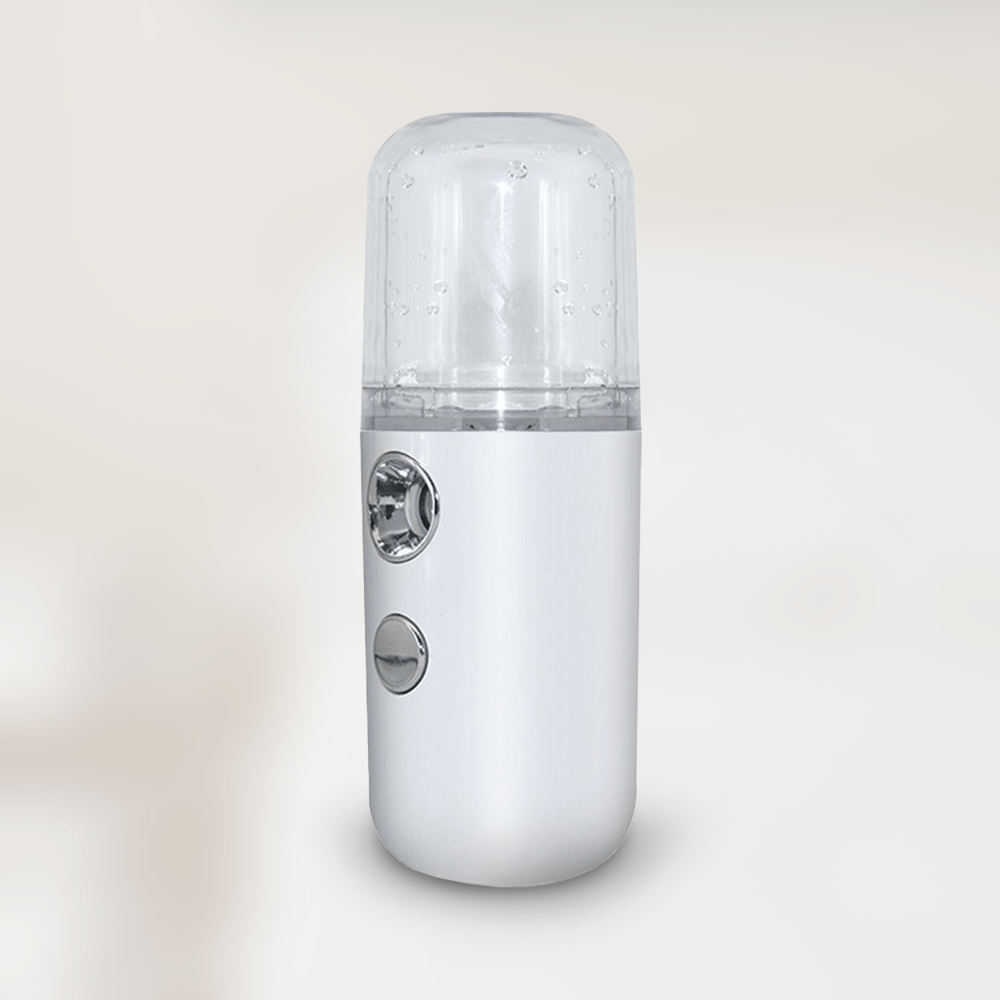 ✔️ MULTI-PURPOSE — Can be used as a facial mister and as a compact nano mist sanitizer.
✔️ DEEP MOISTURIZING — Nano atomization technology atomizes liquid into nano-sized small molecular particles, which can penetrate directly into the deep skin layer, achieving better absorption. It helps skin retain moisture, so your complexion looks more radiant and healthy.
✔️ INSTANT SANITIZATION — Sanitize your belongings and hands for quick and easy disinfection from bacteria anywhere and anytime. It helps to cleanse the everyday items you touch to minimize the chance of spreading germs: mobiles, keys, car, wallet, remotes, watches, laptops.
✔️ PORTABLE & LIGHTWEIGHT — Designed as a mini size, comfortable to handle, a must-have to keep on you for sanitizing throughout the day.
✔️ TRAVEL-FRIENDLY — Having a capacity of 30 ml, it's conveniently portable and USB rechargeable which makes carrying it wherever you go hassle-free.
✔️ USB RECHARGEABLE — It can be recharged via the included USB cable.