Description
Looking for a back and neck massager that can provide you maximum comfort with deep kneading? Look no further than our Neck and Back Shiatsu Massage Pillow With Heating to relieve your back and neck cramps permanently!
Now you can alleviate the symptoms of neck, back and shoulder pain, reduce stress, and feel more energized all at once. The Neck and Back Shiatsu Massage Pillow delivers you the best massage experience anywhere, anytime. It has 8 multi-directional rotating balls that are present inside the massage pillow. The flattened Shiatsu nodes placed carefully to connect with your acupressure points and provide you the best healing treatment. This Japanese massage technique applies circular motion and deep-kneading pressure to acupoints, thus releasing tension and easing tight muscles.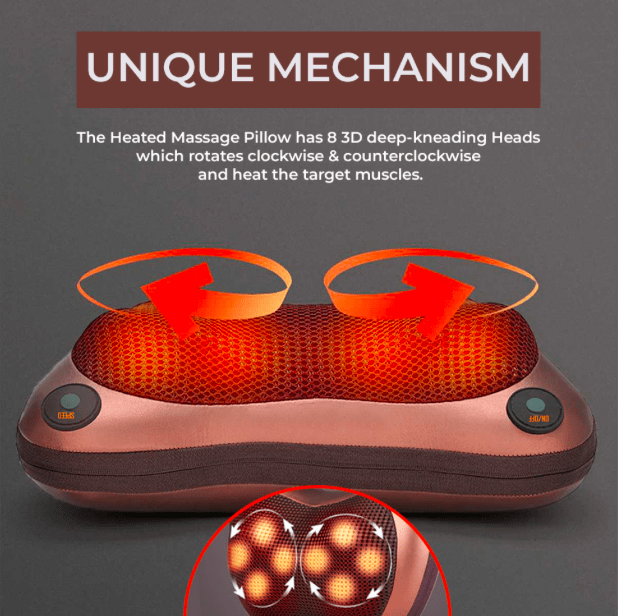 You can use this massage pillow to perform a full-body therapy. It is built in a way that you can position it to massage your target area. It fits perfectly behind your neck and back and contours your spine and lower back. You can massage your neck, upper and lower back, shoulders, lumbar, waist, leg, calf, or foot. This massager will help you to calm your spirit down after a long day's work, making it the perfect addition to your daily routine. The pillow plugs into an electrical outlet and does not need to be recharged. Enjoy full relaxation while laying down on the couch as you read or watch your favorite tv-show. It also comes with a stretchable strap to be fastened to a chair in an office, or in the car.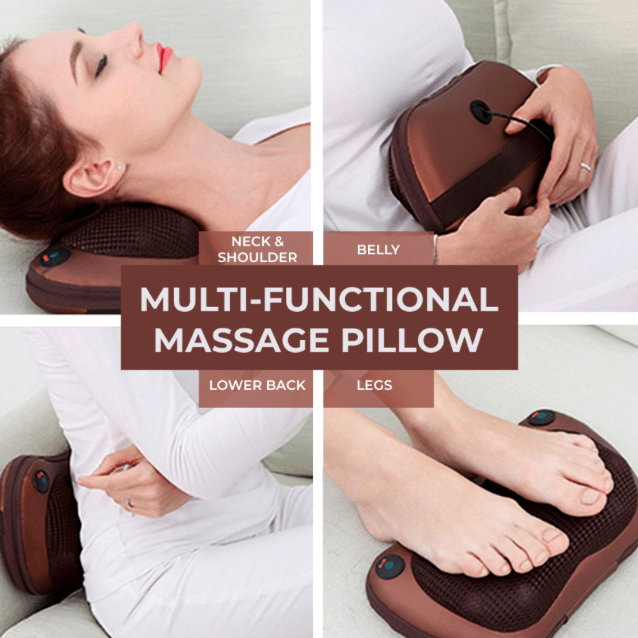 To help relieve fatigue, aches, pains, and stress all over your body, this massage pillow comes with a heat option to soothe your muscles. It boosts the blood circulation and promotes the relief of your whole body effectively. The neck massager has an automated overheat protection device, automatically shutting down once a 20-minute heating cycle is complete. If the massager exceeds the working temperature, there's a safety device installed within it, which automatically shuts the massage pillow's heat functionality by shutting off the motor. It not only ensures an excellent heating experience for you but at the same time, it ensures the device doesn't get damaged due to excessive heat. Enjoy soothing massages at home, at your office, or even in your car and feel all the tension and soreness melt away.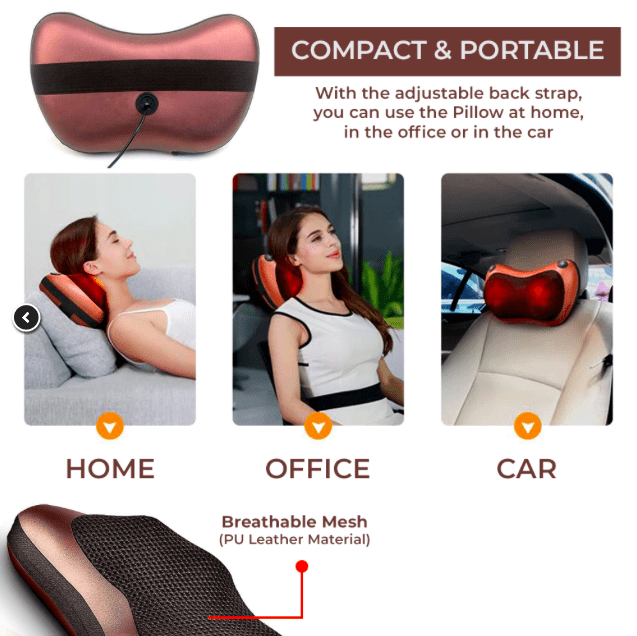 ✔️ SHIATSU KNEADING MASSAGE — Operates using 8 deep-kneading Shiatsu massage nodes that helps loosen up your tight back, shoulders, and neck.
✔️ 8 MASSAGE ROLLER BALLS — With 8 massage, the massage pillow mimics the kneading and penetrating motions of a real massage therapist's hands.
✔️ 3 SPEED LEVELS — Allow you to get the right and appropriate amount of pressure to relieve your muscle pain. 
✔️ HEATING FUNCTION — Provides a soothing and invigorating heat that helps more to loosen up your muscles and promote blood circulation
✔️ SORE & TIRED MUSCLES RELIEF — Provides deep tissue massages on your neck, shoulders, upper back, lower back, waist, foot, tights, calves, legs, feet and arms – helping your whole body to release stress, sore muscles and help you relax.
✔️ ERGONOMIC DESIGN & PORTABLE — Ergonomic W-design fits perfectly behind neck and back and contours your spine and lower back. You can take it anywhere with you and enjoy a deep tissue massage in your home, car, office or anywhere.
✔️ SAFE & USER-FRIENDLY — Equipped with overheat protection device and programmed with 20-minute auto shut-off to ensure safety. All you need you to need to do is plug the device in and it powers on.