Description
Stop hiding your dry, cracked heels and callused feet! Treat you feet with a professional salon experience and get pedicure-worthy feet whenever you want!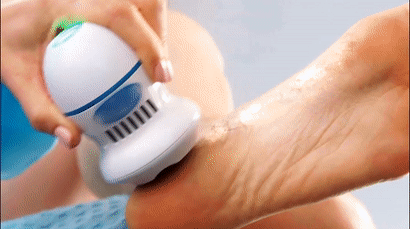 Don't risk hurting your feet with that old heel scraper or callus remover chemicals when you can easily get professional results at home with our Electric Callus Remover. It is the gentle, powerful, easy, and mess-free tool to instantly get rid of calluses, remove dead skin, and smooth cracked heels. Unlike regular foot files that leave behind piles of dead skin shavings and dust, this electric callus remover uses unique derma-vac technology that sucks up those dead skin shavings while you use it. The integrated vacuum system makes this callus remover perfect for taking on the go. Use it in the car for sandal-ready feet right before hitting the beach. Or, take it to the office to touch up unsightly cracked heels between meetings. You're no longer have to suffer from dry cracked heels and calluses in-between your nail salon visits.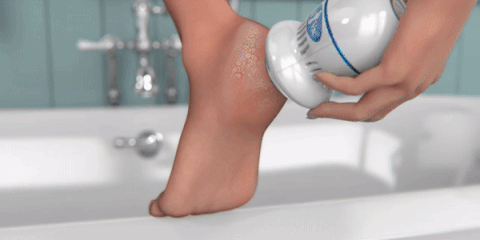 A regular foot file often damages the skin, causing pain and discomfort. Our callus remover eliminates uncomfortable calluses on the feet and smoothes cracked heels without damaging the skin, so you can exfoliate your feet on a regular basis. The powerfully exfoliating nano-abrasion head makes this the ultimate foot peeling. The head rotates at high speed of over 2000 rpm to easily remove calluses and rough skin in seconds, ensuring pain-free polishing of the skin. Equipped with rechargeable battery power supply, it allows you to use the callus remover anywhere at any time, and keep your feet looking and feeling healthy.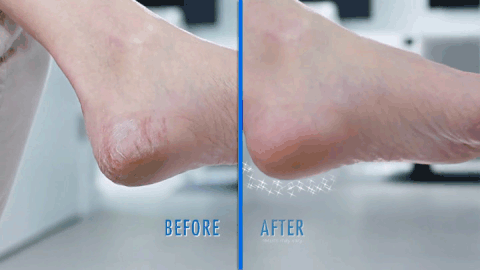 HOW TO USE
Step 1. Pre-soak your feet in warm water for a few minutes until the skin feels soft (especially if you tend to have very dry skin). Then wipe or dry your skin.
Step 2. Start the device and slowly move it across the surface with callus.  Move the roller to a different area every 3-4 seconds for even and safe exfoliation.
Step 3. Use the light pressure and let the tool do the work for you gently touching the skin while you sit back and relax. By design the electric callus remover will automatically slow down or stop when you apply too much pressure to avoid damaging the healthy skin and prevent skin irritation.
Step 4. After use, the grinding head can be detached immediately, it can be rinsed with water for next use which allows you to solve problem of dandruff residue, avoid bacterial growth and protect your health.
Step 5. Apply your favorite foot lotion body butter or cream when you're done and enjoy the smooth and soft skin feeling on your feet.
✔️ VERSATILE USAGE — Suitable for callus removal, foot massage, foot repair to provide you a comprehensive pedicure tool.
✔️ MESS-FREE — Uses an integrated vacuum that sucks and sucks dead skin at the same time instantly removes dry, dead skin and unpleasant callus of heels, soles and toes while you use it.
✔️ DUAL POWER SUPPLY — Works on 4x AA batteries or can be powered by a USB cable provided.
✔️ PORTABLE & CONVENIENT  — Compact in size, you can carry it along on the go and have soft pediatric feet whenever you want.
✔️ SAFE & INSTANT — Instantly removes dead skin and uncomfortable calluses on the feet without damaging the skin. Suitable for people with sensitive skin or strong calluses.